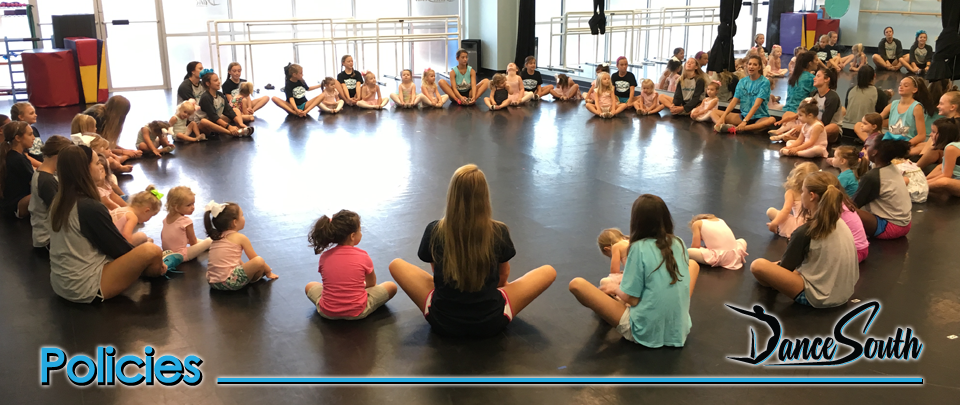 1. Do not park in the fire lane. If you need to come inside, then please park in any of the parking places in Newpointe.
2. Only dancers are allowed to go past the office door (sign above reads DANCER'S ONLY). This is for the safety and privacy of our dancers. Please respect this policy. If you need to use the restroom, please ask the front desk if you can go back there. Many of our dancers are changing clothes between classes and we don't want any of them to feel uncomfortable.
3. We do sell water bottles for $1, cash only.
4. We encourage dancers to use the restroom before class begins, this way they are not taking time out of their instruction in class.
5. If you need to miss a class, for illness, vacation, etc, please email the office so that we can let your teacher know. Please remember that there are no refunds, or make up classes for those missed.
6. We follow Lamar County schools calendar. If they should happen to close for weather related issues, then we are closed as well.
7. Please keep up to date with us via our Facebook page, Instagram page, our website and our app. If you download the free DanceSouth app, on your phone, you will be automatically added to our texting alert service. This is for reminders and other info.
8. We do have a dress code, that we adhere to. Please check the dress code on our website. We recommend you having your dancers name in all of their clothes and shoes in case they get left behind. We do have a lost and found in the back of the studio.
9. For preschool classes, we have parent observation days TWICE a year. Dates will be announced as soon as they are determined.
10. All dancers are assumed to be in the May recital, unless we are told otherwise. Fees associated with the recital are costumes (due by
Dec. 1
) and performance fee (due by
March 1st
)