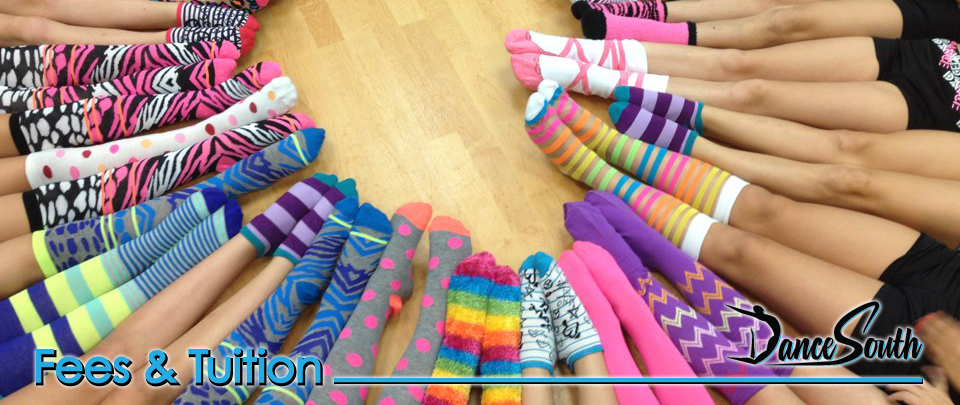 Classes Per Week

| One | Two | Three | Four | Five | Six | Seven | Eight | Unlimited |
| --- | --- | --- | --- | --- | --- | --- | --- | --- |
| $60 | $85 | $110 | $135 | $160 | $185 | $210 | $235 | $250 |
Tuition is charge monthly based on the number of classes taken each week.
Dance South accepts Cash, Checks, and Credit/Debit Cards.
ALL PAYMENTS MADE TO DANCE SOUTH ARE NON-REFUNDABLE.
Registration Fee– $40 non-refundable. This is to secure a spot in our classes.
ALL PAYMENTS NEED TO BE MADE ONLINE or USING OUR ENVELOPE SYSTEM AT THE FRONT DESK.
Tuition– This is a set yearly fee that we can divide into 10 monthly installments. This is regardless of how many lessons are in a month, or how many classes the dancer is able to attend in a month. Tuition that is not paid by the 15th of the month will automatically be assessed a $20 late fee and will be charged to the card on file. Tuition is $60 for 1 class, and then $25 for each additional class within a family. Tuition is non-refundable. We do not make up classes if you miss for any reason (sick/vacation, etc.) If you withdraw from a class, you need to email the studio before the 1st of the month or you will be charged.
Credit/Debit cards on file– We encourage everyone to choose auto-draft from a credit or debit card. Every dancer must have a valid card on file regardless of auto-draft. This card will be charged if a payment is past due. As always, no payments are refundable. It is your responsibility to notify us of a card change, expiration date, etc. Invalid cards will still incur a late fee if they are not changed in time.
Payments– We can accept cash, check, Visa, Mastercard, Discover. You can pay online, at the studio, or via mail. There is a $30 fee for any returned check. All payments are non-refundable. We strongly encourage our auto-pay system.
Costumes– Recital costumes are $70 each. All fees are due before December 1st. We will measure in class. Any fees unpaid by the due date will be charged to the card on file. Costume fees are non-refundable. We will assume all students are performing in the recital unless told otherwise before December 1st.
Performance Fee– Each dancer will be charged a $100 fee to participate in the recital. This is due before March 1st. Any fees unpaid by the due date will be charged to the card on file. It is non-refundable.
Recital– All dancers will participate in the recital (except  the dance team progressions class). If you will not be in the recital, we must be notified via email by December 1st. The recital date is May 14, 2022.
Stay Informed– It is the parent's responsibility to stay updated with the studio and its events. We use email, Facebook, our website and Instagram to communicate. Be sure your cell phone is the main phone listed on your account because we do send out text reminders. We can only have one cell and one email set up as primary to receive all notifications. 
Dress Code– We do require our dancers to adhere to our dress code. We recommend Dance Fantasy to purchase your dancewear and dance shoes. All preschool dancers (2s, 3s, 4s) wear a pink leotard, pink tights and pink ballet shoes. The 3/4s will wear tan tap shoes as well. Skirts may be worn as long as they are short. Hair should be pulled out of the face. Kindergarteners and up will wear a black leo, pink tights and pink ballet shoes. For tap and jazz we require tan shoes. Jazzpants, skirts or shorts can be worn over the leo for tap/jazz. Hip Hop classes can wear any dance attire but will need black "converse style" tennis shoes. Please put your name in all shoes and clothes.